Archive for the 'Fresh and Fashion' Category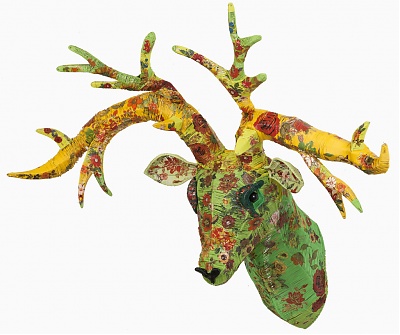 A beautiful floral moose and an adorable crochet kudu designed by South African designer Magda van der Vloed, revealed themselves as fascinating sculptures that capture the imagination.
Poetic interpretation of nature
This happy mix of wire and recycled plastic bags give life to these animal trophies, which manifested itself as works of art that's unsurpassed in its unique and magical qualities.
Their beauty and inspiration are find in nature and with artful interpretation, the designer fused new techniques, recycled materials and the comfort and familiar look of old granny blankets into these majestic masterpieces that's fresh, magnificent and full of poetry!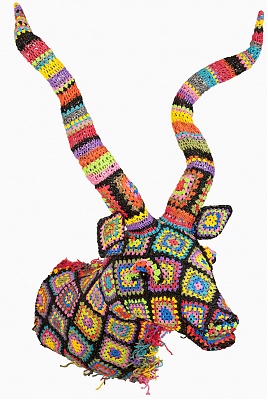 Trophée Elan fleuri
Design : Magda Van Der Vloed
Material : mix of wire and recycled phone cables
Size : 95x43x112 cm
&
Trophée Koudou Crocheté
Design : Magda Van Der Vloed
Material : mix of wire and recycled plastic bags
Size : 137x75x75 cm
Prix public conseillé : 2 990 €
Informations : Mahatsara
* Magda van Der Vloed manages a small integration business unit to form and employ young craftsman workers. Renowed for her creative and teaching talents, she often conducts products development workshops for South African NGO "Aid to Artisans"
Maison&Objet… 2012/2013 Trends in Pictures!
Maison & Objet Showcase suggested us a completely mad trends track! Maison&Objet Observer unveil us 2012/2013 tendancies in a singular journey, subtle and sometime disturbing:  imagination, art and creativity!
Leaving economic crisis behind us, M&O offered us a comforting selection of very inspired home furnitures and objects, poetics, somewhat on the fringe, colored, with an innovative design and a pleasant creative energy.
Discovering brasilian designers Fernando and Humberto CAMPANA, "créateurs de l'année MAISON&OBJET 2012″, and Tokujin Yoshioka for "Now! design à vivre", innovative projects of Tech & Design programme from R3ilab, the new belgian editor Objekten collection, Lilas Force poetics creations, I Pier Paolo Pitacco I love animals lamps (Alessi)…
Of course Elizabeth Leriche, Vincent Grégoire and François Bernard's famous scenographies, trends hunters for Maison&Objet Observatory warding of ordinariness, daring the unexpected by originality, excentricity, fantasy, imagination and dreams.
Art'keting (François Bernard) anachronisms, maters and colors collision… Home becoming an artwork you are the creator. Sweet Freaks (Vincent Grégoire – NellyRodi) juxtapositions and accumulations for a psychotropic dizziness. Dream Box (Elizabeth Leriche) home turns out to be a marvel cave where illusions, lost of senses and a whole fantasmatic charm delight and bewtich anyone. Home tries out the ready-to-dream with WonderHouse (les Ateliers d'Art de France), a place for artisans' artworks figuring the metaphor of a full of marvels house.
We Had a Crush For…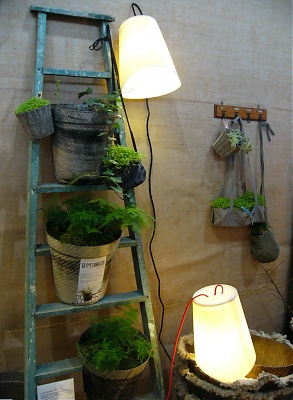 az&mut
©photo C. Cozanet
Corbeilles en fil de téléphone crocheté – Mahatsara
©photo C. Cozanet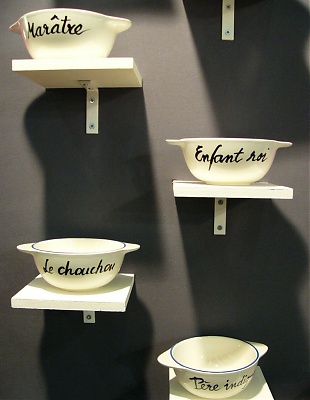 Bols bretons revisités by Pied de poule
©photo C. Cozanet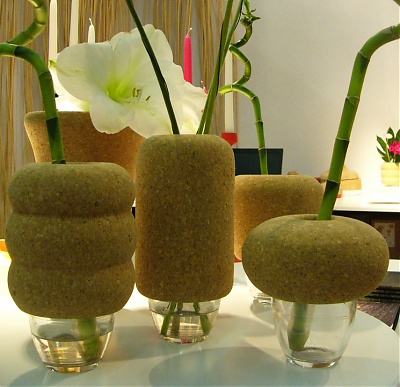 Vases Cantine by Véronique Maire – Y'a pas le feu au lac
©photo C. Cozanet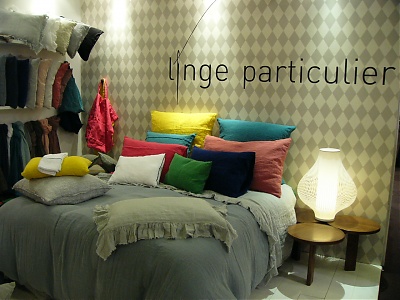 Le lin par Linge particulier
©photo C. Cozanet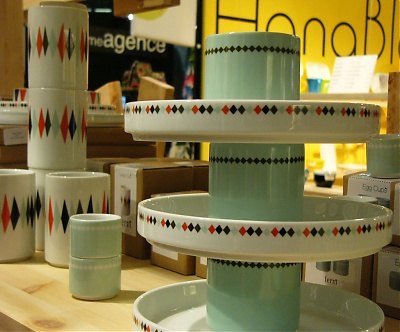 Ferm Living
©photo C. Cozanet
… et bien d'autres encore !
Follow Un je ne sais quoi Déco on Facebook / Twitter Un je ne sais quoi Déco / Twitter@Chris
Bienvenue Chez « Merci »
The new fashion concept store in Paris, France
We are pleased to let you visit this new "boutique" everyone talks about !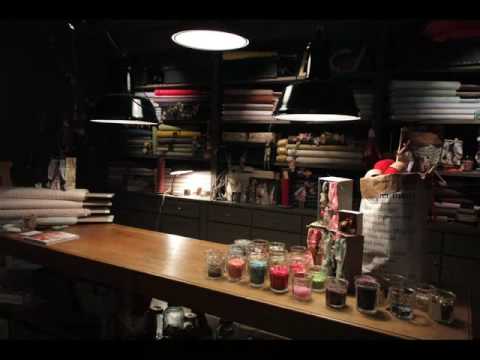 (diaporama (c) Cozanet Un je ne sais quoi Déco 2009)
Un je ne sais quoi Déco, the french New life style magazine !
We've been taking a ride to professionnal furnitures and design exibition that took place near Paris, France, last january.
Have a look to our meet with three designors !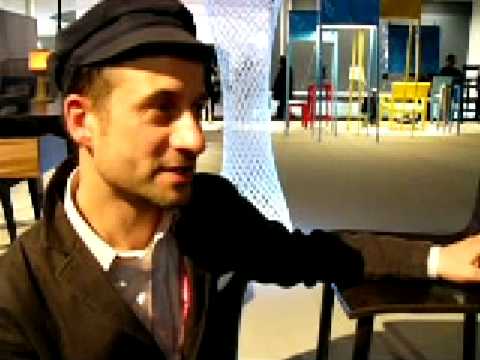 this pocket movie was made using our Panasonic fz10 camera
(c) Un je ne sais quoi Déco 2009
Plug to this article in our Magazine, in french but should be nice for your eyes !
…or every thing coming from inside it
Giant and Amazing Aunction take place in Paris on february the 8th, hôtel Marcel Dassault, rond-point des Champs-Élysées. Beautiful vintage items !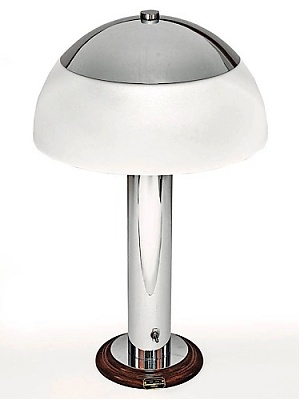 pair of lamps, from NORWAY ship.
750 ~ 950 €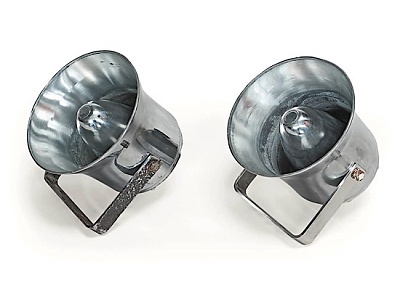 Pair of metal speakers, these sould not be used for music listening…
250 ~ 350 €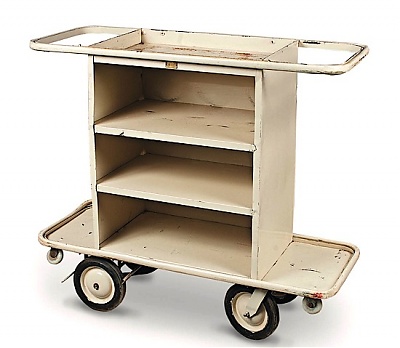 Trendy vintage sideboard, as is
500 ~ 600 €
Online directory, for all other objects : www.artcurial.com
Au revoir "Le France" !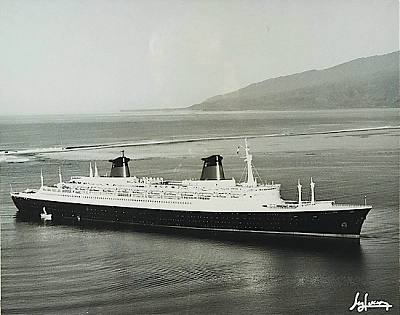 W&B aerial shot of transatlantic ship France, 1974
300 ~ 400 €
More details in our french part of the magazine.