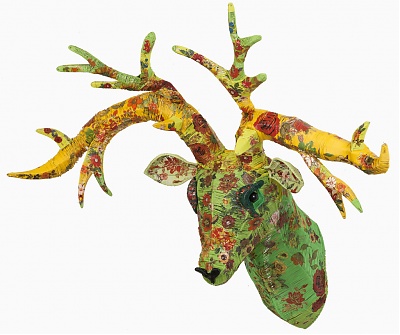 A beautiful floral moose and an adorable crochet kudu designed by South African designer Magda van der Vloed, revealed themselves as fascinating sculptures that capture the imagination.
Poetic interpretation of nature
This happy mix of wire and recycled plastic bags give life to these animal trophies, which manifested itself as works of art that's unsurpassed in its unique and magical qualities.
Their beauty and inspiration are find in nature and with artful interpretation, the designer fused new techniques, recycled materials and the comfort and familiar look of old granny blankets into these majestic masterpieces that's fresh, magnificent and full of poetry!
Your ads will be inserted here by
Easy AdSense.
Please go to the plugin admin page to
Paste your ad code OR
Suppress this ad slot.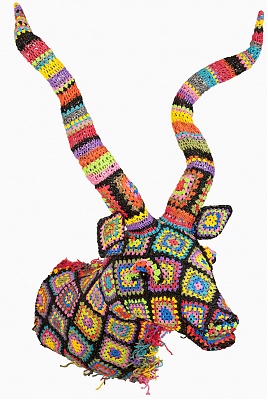 Trophée Elan fleuri
Design : Magda Van Der Vloed
Material : mix of wire and recycled phone cables
Size : 95x43x112 cm
&
Trophée Koudou Crocheté
Design : Magda Van Der Vloed
Material : mix of wire and recycled plastic bags
Size : 137x75x75 cm
Prix public conseillé : 2 990 €
Informations : Mahatsara
* Magda van Der Vloed manages a small integration business unit to form and employ young craftsman workers. Renowed for her creative and teaching talents, she often conducts products development workshops for South African NGO "Aid to Artisans"
Comments
comments